Though more and more of what we do on a daily basis is being moved online, most people still have significant use for paper. It's the standard for turning in assignments, taking notes, and the like. Paper is becoming unnecessary in more and more places, but it's impossible to avoid the event of needing and using paper. Sorry, trees.
Paper can be a pain, though. Graphing paper, lined paper, dot paper, music paper. Who knew there were so many kinds of paper out there? Lots to buy, keep track of, and panic when you can't find.
Or, just use Printable Paper, a web application designed to keep you fully stocked with the kind of paper you need. Using Printable Paper, you can find just about any kind of paper template you can imagine. Whether you're looking for "Columnar Paper with three columns on letter-sized paper in portrait orientation paper" (I don't even know what that is), or just a simple "Bowling Score Sheet," you can get any kind of paper you need, with just blank paper and ink.
Downloading the printable papers couldn't be easier- just find the one you want, and click on it. You'll get the option to download it as a PDF, which will stay on your desktop forever, meaning you can use it whenever you want to. Printing is equally simple- fire up the PDF, and then print it out. It'll print out looking just like you bought it that way.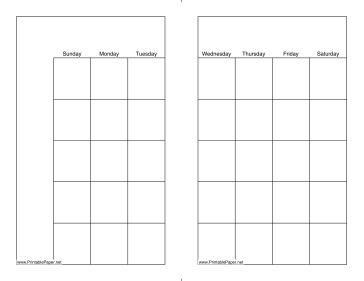 They come out as blank pieces of paper, ready to be filled in. There's no evidence you printed them instead of buying them, and they're as easy to use as any other paper template. Though I don't necessarily recommend getting all of your paper this way, it's dead useful in a pinch. If you need notepaper, or graph paper, or even a calendar, Printable Paper's the best way to get it quickly.
If you're looking for more than just 8.5 x 11″ paper, sign up for the newsletter when you first get to the site. There, you'll get updates about Fax Cover Sheets, Business Cards, Stationery, and Cash Receipts. Whether you're looking to lower business costs, or just find some paper with the Cornell note template on it, Printable Paper's a great place to look.
All you'll need is a stack of printer paper, ink and staples, and you're ready to become your very own Staples- the paper section, at least.