I know, I know, you're on vacation…
When you do have to head back to school, though, you'll be right back in the thick of reading, writing, and studying before you even know what happened. Here's a tool to bookmark that might make the return a bit easier on you.
wePapers is a brand new startup, just into public beta, that calls itself "The YouTube of documents." Though the tagline's slightly misleading (i.e. no sneezing pandas), there's some truth to it. As YouTube is an online database and viewer for videos of all kinds, so is wePapers for academic documents.
wePapers has a huge number of academic papers, books, class notes, and any other resource you might need to feed that brain of yours. You can search them, find them by subject or medium (book, paper, etc.), or go through lists like the "Most Popular" and "Most Commented." All the documents are uploaded by users, and many of them are created by those users.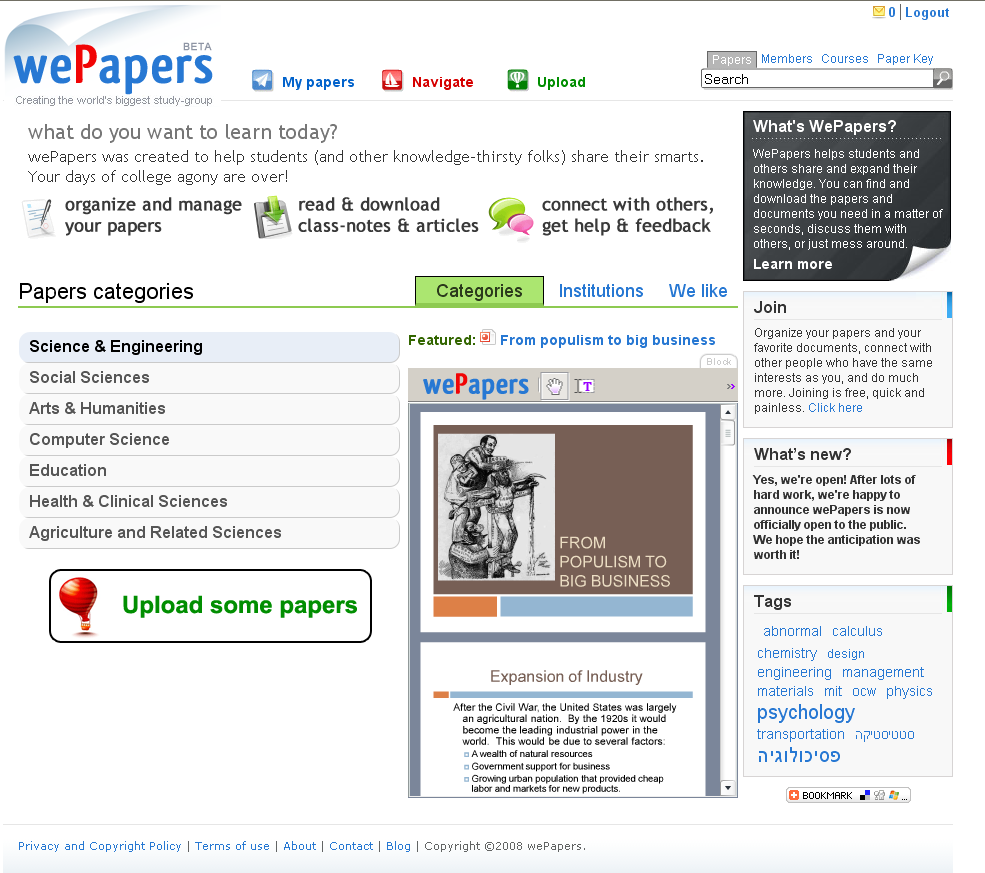 The ease with which you can find materials on wePapers is a huge plus. You can sort documents by language, subject, and even institution- meaning if you just want to find the notes from other people who've taken a particular class at your school, you can. Though the database isn't enormous yet, it has serious potential for improving online collaboration.
Once you've found the document you want, you've got new options: you can view it right in your browser, download it to your computer, or save it to your "Course Box," a repository, on wePapers, of all the documents you've saved. You can also upload your own documents, tag them and share them with the world.
There are also options to share, embed, or email a particular document- helpful for collaborating purposes, instead of having to copy and paste links, send attachments, or what have you. For instance, here's a document called "Thinking on Paper Cheat Sheet":
BLABLA
The real usefulness for wePapers, in my opinion, is four things. First, it's a great place to get both research and study aids. Many of the documents are scholarly and ripe for use in papers, and are easy to find, read and download. Even the ones you probably shouldn't cite in a paper are useful, like someone's class notes to Organic Chemistry. Reading the work of other students is a really helpful way to learn something you may not have gotten otherwise, and it makes catching up on missed material a whole lot easier.
The second use, and potentially the coolest, is as a group study guide. wePapers lets you create Contacts, with whom you can collaborate and discuss papers. Here's my vision: you and your friends in a particular class, wherever you may be, log in to wePapers. You all upload and share your class notes with each other, and then you can discuss the subject and your notes, all over wePapers. No trying to figure out when to meet, or where- just get together on wePapers, and everything you need is right there.
The third use: instant feedback. You can upload a paper you write to wePapers, and instantly have people comment on your paper and writing. Whether it's people in your class (with whom you'd be connected, so they'd ideally see you uploaded something) or someone totally separate, it's a great forum for quick and easy feedback. The site is geared to both students and professors, so you're putting your paper in front of a lot of qualified people.
Fourth, and simplest, wePapers could just be an online notebook for all your school stuff. Upload all your notes, your exams, course lists- everything. It can all be managed from within wePapers, and you're able to both use and access it from anywhere and share it with others who might have a class or interest in common.
My biggest worry about the site, and the only thing that makes me nervous about its adoption, is cheating. With this many documents, this readily available, it's easy to just copy a paper someone else wrote on a similar topic and turn it in as your own. This is not the use of the site, but as with any site that asks you to upload your own work, it has risks.
Whether you just want to find a source for a paper, manage your school life, or study with a group, wePapers is a seriously useful tool. It's still new, so there are some definite issues, mostly to do with the number of documents uploaded; that number will grow quickly, though. As it does, you may find you spend more and more time on the wePapers site, uploading and downloading all your course materials.
Related posts: