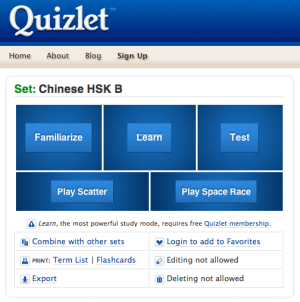 As I've mentioned before, I think the best way to study is in ways other than just sitting and reading notes. I find that boring and unhelpful- did I mention it's boring? How about unhelpful?
I've just recently discovered an incredible tool to make studying and learning much easier and much more fun, and it's called Quizlet.
Basically, Quizlet is a massive flashcard database, full of every kind of topic you can think of. State capitals, multiplication tables, Cantonese- you name it, there's flashcards. Pretty neat in itself, but we're just getting started.
The database of "sets" is huge, but maybe you've got your own vocab terms to study (they can be anything- literally). Just sign up for a free account, input the terms and definitions (a nice study aid in itself), and get going! It takes no longer to do than it would to write out flash cards, and they're infinitely more useful with Quizlet.
With each set of cards, you can do five thing: First is "familiarize," when you can flip between sides of the cards to learn them. Next, move on to "learn," where you're given the definition and have to write in the term. The third option (this is where it gets cool) is "Test." The tests are mixed with true/false questions, multiple choice, fill in the blank, and matching. They look and feel like vocabulary tests would, and are incredibly useful.
BLABLA
If you're not having enough fun yet, there are two great games: "Scatter," where you have to drag the definition and word on top of each other to make them disappear, and "Space Race," where you have to type the words being defined before they reach the bottom of the screen.
There are a ton of other features, too: you can share flash cards, print them, discuss them, create groups to let your friends study together, and a number of other things. There's even word of an iPhone application in the works…
Once you start using Quizlet, you may never use 3″ x 5″ index cards again. Instead, your flash cards will be more accessible, more helpful, and a whole lot more fun.
Do you use flashcards? How do you use them? Let us know in the comments.
Related posts: